7 Affordable Marketing Analytics Tools to Save Your Money
We live in a data-driven world, so measurements and analytics are essential for any marketer or business owner. Especially this 2020 year is teaching us that awareness of accurate data and flexibility to use that are important keys for running a successful business. Because of the pandemic, people change the way they consume and search for particular products or services. Not to see your profits dry up, we should be ready for changes.
To keep your online business profitable, I recommend you try the top 7 affordable marketing analytics tools. You may didn't hear about some of them, but give it a try! All of them provide accurate analytical data and save your money – it's not the right time to overpay for famous brands.
Let's dive in!
1. Viralstat
Are you looking for the hottest trends in social media or YouTube to grow your audience? Viralstat is the tool to track, analyze, and compare thousands of social channels. I consider this product as the best in the scope of social video analytics.
What kind of data can you get with Viralstat? Video campaigns and social activity of the leaders in your industry, new content ideas from the most viral stories and the latest trends in the industry, large database of influencers and experts with statistics, YouTube analytics to lower ad cost, and increase ROI.
Main features:
Social Video Intelligence
Social Media Analytics
Content Discovery
Influencer Research
YouTube Ads Optimization
And lots of other features
Price: The basic plan costs only 29 USD/m. 7 days of free trial access.
2.Wincher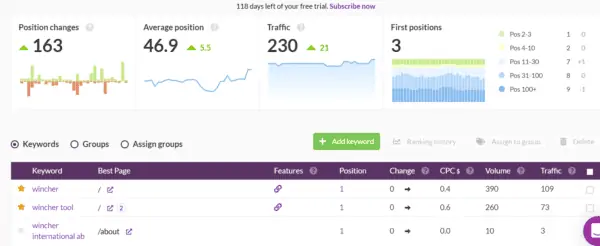 Wincher is a keyword rank tracker, packed with features. What's unique about this product?
First of all, it works on a dynamic pricing model. So only you decide how many domains you wish to track and pay monthly. Each additional domain or 100 keywords cost only 3 EUR/m!
Also, you can add your teammates and track competitors absolutely for free regardless of the volumes. Besides that Wincher allows you to optimize your webpages with a free on-page SEO tool and use keyword research tool, fully integrated with the rank tracker.
Price: 10 EUR/m for tracking 1 domain and up to 100 keywords. Any additional one costs 3 EUR/m.
3.Buzzsumo
Buzzsumo is everything you need to track both web content and social media engagement across Facebook, LinkedIn, Twitter, Pinterest, etc. Its features cover keyword research, competitor analysis, identifying top influencers in the niche, measure your content marketing outcome, and find ways to improve the performance.
Even with a free version, you can identify the websites, influencers, and posts that are the most popular in your niche. Armed with that data, you can produce your own content that will definitely resonate with your target audience.
Price: starts from 99$/m for unlimited monthly searches. 1 month of a free trial.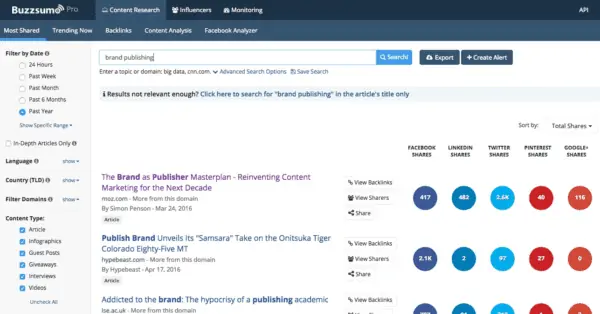 4. Surfer
Amazing data-driven on-page SEO tool with lots of features. If you are tired of manually analyzing all of your web content and organic competitors, just try Surfer out. They focus on datasets that can help marketers and content creators to make the right decisions.
Surfer includes such features as Keyword Research, Content Editor, SEO Audit and unique SERP analyzer, which will discover optimal keyword density and compare your page to the competition.
They also offer free Google Chrome Extension – Keyword Surfer. It will help to reveal search data and perform keyword searches in Google.
Pricing. 7 days of trial access for 1$. Paid plans start from 49$/m.
5. OWOX BI
OWOX BI is an all-in-one tool for attribution modelling, reporting, and forecasting. It helps marketers and analysts to go beyond the typical Google products data like GSC or GA.
The product is quite advanced. It's developed to meet the demands of professionals, solving not-trial tasks of data multistreaming. OWOX BI provides marketing analytics with predictions, insights, and alarms. Besides that, the tool has an amazing report constructor, that allows us to build various customized reports.
Get a complete overview of your marketing performance with OWOX BI.
Price: starts at 55$ per month. Free trial without credit card details.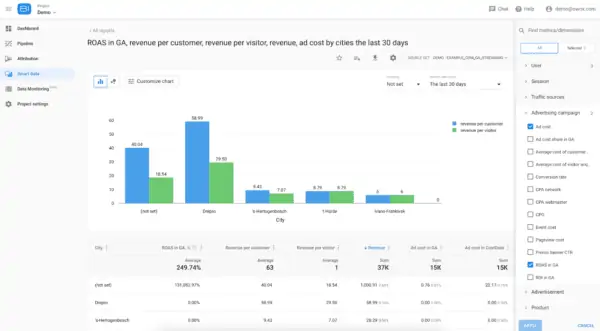 Image Credit: OWOX
6. Clicky
It's a complete web analytic tool with some unique features. One of the most attractive ones is the heatmap builder. It helps to analyze how visitors of your website interact with your pages and CTA. Clicky shows the intense by highlighting red, yellow, and orange heatmaps over the areas people interact with the most. With this data, you can reveal what attracts your visitors and what objects they ignore.
Clicky combines historic data and real-time website tracking in easy and elegant ways. Providing the highest value and power, the platform offers integrations for a huge number of web software packages (such as Tumblr, Squarespace, Vanilla Forums, Magento, and Joomla). Moreover, there are two WordPress plugins.
If you need access to rich data and deep analytics, try Clicky. That's totally free!
Price: free version. Paid plans start from 10 USD/m.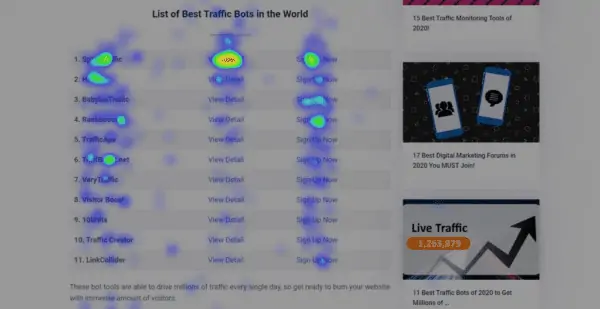 Image Credit: EzeeTraffic
7.Signum AI
I couldn't ignore this AI-powered platform, as it's an absolute depository of leads for your business. That's always actual, especially in this challenging time when consumer preferences are changing a lot.
So Signum is a toolkit for advanced lead generation with the help of Artificial Intelligence. The main idea is in cutting down the cost and time for manual searching for new leads and customers. The platform will parse the audience and collect warm and loyal potential customers. It's based on your criteria and triggers set.
I would recommend every marketer and business owner try it out once, as in most cases revenue and ROI are doubled!
Price: customized according to your needs.
Summing up
I've collected less famous, but powerful and affordable analytics tools with different ideas in the core. If you want to collect exclusive growth insights, just try them out. Especially when most of them offer a free trial without credit card submission.
Be sure that analytics and accurate web data will help you to reduce the cost and understand your audience better. It will lead to growth and better decisions without guessing.
Stay adaptable and keep growing regardless of the changes outside!