No two SEO tools were created equal. And if you've been a marketer for more than 2 minutes, then you know that SEO is one of the most important parts of online marketing.  And since more than 90% of people search on Google, they learn more about a local company online than through word of mouth like they used to in the old days (god I sound so old). As an SEO myself, I know it can get pretty expensive once you start paying for just a handful of these tools. So that isn't realistic. And so in this list, I'm going to cover the top 6 chrome extensions you can use as an SEO to help you save time and make your workflow more efficient.
#1 Moz
In the world of SEO, everything is judged based on a website's DA/PA (Domain Authority/Page Authority). The higher these two numbers are, the higher your rankings will be. And if you're out hunting for guest posts, you can use these metrics to determine whether a website is worth doing a guest post for or not.  

Thankfully, Mozbar is a chrome extension that Moz created that tells you the domain authority and page authority of any web page you visit. This makes things incredibly efficient for you, especially when you're doing keyword research and competitor research to see how your website stacks up against theirs.
#2 Keyword Surfer
Whether you're a high roller and use Ahrefs or SEMrush's most expensive subscription plan, or whether you love saving money and use Ubersuggest, there's one thing all of us go back to, is getting the keyword data we need to decide whether or not the volume and competition are worth going after. Wouldn't it be amazing if you didn't need to go back each time you needed to check that data for a keyword? Could you see all that info on the same page just like Mozbar? Well, lucky for you Keyword Surfer already does that. So whenever you search for anything on Google, Keyword Surfer pulls the volume and your region.

And not just that, you also get a bunch of similar keywords that you can also dig into to find more low-competition keywords you can target. On top of that, if you scroll down a bit, you also get to see how many backlinks every result has. This will give you a bird's eye view of how many backlinks you'd need to rank your website. And from there you can dig into the results and see where those backlinks are coming from and try to get the same backlinks for your website as well.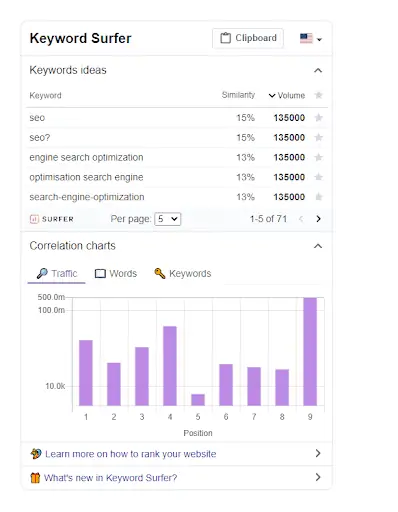 Keywords Everywhere is an alternative to this tool that provided all the same data (except the no. of backlinks) for free until last year. Now they have moved to a credit system which is still very cheap. You can get 100,000 credits for $10, which to be honest, should last almost every SEO for at least a year unless you have 10+ projects running simultaneously and you have to constantly keep doing keyword research for each one of them. I've been using Keywords Everywhere for over a year now and haven't run out of credits yet. I'm still at 96,000 credits as you can see.
#3 Ninja Outreach
This one is for SEOs like me who LOVE doing guest posts. And let's be honest. It doesn't matter how much on-page SEO you do. You won't rank if you don't build any links. And this is why most people are never able to rank their websites – because they hate to do the tedious work of doing the outreach, writing the articles, and customizing the articles to make sure that they fit the guidelines of the website owner. But Ninja Outreach makes outreach a little bit easier. Once you land on a webpage, this extension will show you all the email addresses that are associated with the domain name. And if you like the website, you can get all the contact info you need with a click of a button.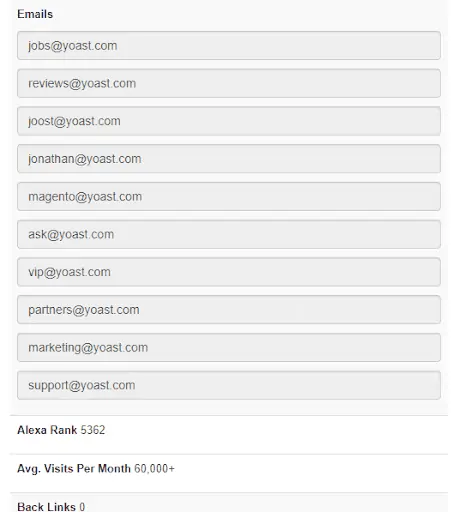 From there all you need to do is to craft a customized email that they'd like to respond to, and hit send.
#4 Fatrank
This one is for SEOs who check their website rankings every day and then verify those rankings manually by typing the search terms in Google. I know we all do this, and it's good unless of course, this turns into a time suck and you end up wasting 2-3 hours figuring out where your webpage is and why it isn't ranking as high as it should be. An easier way to do this is to add the Fatrank extension, go to the website you want to check the rankings for and type in the keyword you want to check your website's ranking for.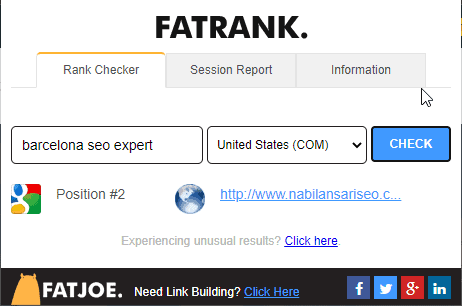 It's simple. It's easy, and it's quick. That way, you don't spend too much time contemplating the reasons why your on-page SEO might not be good enough when in reality, you might just not have enough relevant links going to your homepage and the inner pages.
#5 SEOquake
If you want a detailed view of a website you're visiting, this is the extension you need. With this extension, you can get an overview of things like Alexa rank, indexing info for both, Google and Bing, and also your SEMrush rank. For me, this is an invaluable tool because I spend most of my time searching for guest posts in various niches, and this extension gives an overview of all the outbound links going from a webpage that I'm visiting.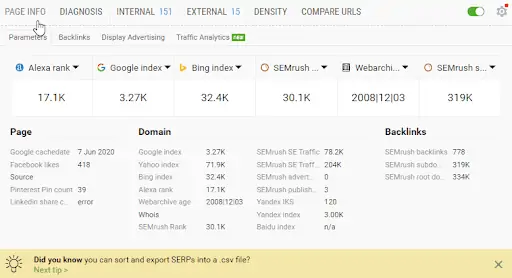 That info, combined with the indexing info helps me decide whether or not the website is worth getting a guest post from. Most of the websites you find when searching for guest posts will be almost similar to link farms, as in, they link out to a ton of different websites from within their blog posts, post about a ton of topics, and also posts 5-6 articles every day.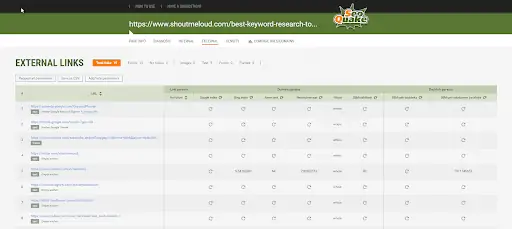 SEOquake helps me filter those websites out by showing me all the outbound links of the page in one place.
#6 Detailed SEO Extension
If you do a lot of local SEO for clients, then you know how important it is to have your on-page SEO on point. In a lot of cases, all you need to do is to get your on-page SEO right, create social profiles, and just send some citations. And that's it. The website will rank for the keyword you're targeting. But all of that depends on whether or not you get your on-page SEO right. So how do you know what you should do? You can reverse engineer what your competitors are doing by using this extension. Just go to their website and see what they're doing in terms of the title tag, meta description, H tags, etc.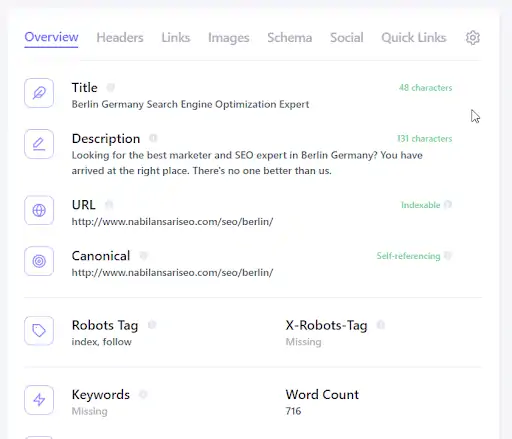 See what keywords they're repeating in those places and see how you can include them on your website in a unique way.
Conclusion
There are a ton of tools you can use as an SEO to make things more efficient for you. But you need to choose the right tools for YOU that will help you deliver better results than other SEOs out there. Choosing the right chrome extensions is the right place to start because you spend almost your entire day in a web browser. So you need to be more efficient with the time you spend there. Check these extensions out. You don't have anything to lose because they are all free. Also, what extensions are you currently using? Are any of them from the list I mentioned above? Let me know in the comments below.