On-page SEO is an important part of any successful SEO strategy and it makes pages much easier for search engines to understand and rank accordingly.
By optimizing your pages using on-page SEO techniques you are giving a better user experience (which Google loves) and helping search engines fill their primary role – connecting search queries to relevant content.
The better you do this, the higher up the rankings you will go.
What Is On-Page SEO?
On-page SEO is a critical stage in building a solid foundation for your online business. Without it, other stages are a waste of your time.
It's free and easy to carry out. And you can see results in the SERPs pretty quickly.
There are two sides to on-page SEO:
Code optimization

User experience
Optimizing your HTML code and a few other elements will ensure search engines can easily visit and crawl your page.
Editing and formatting your content to provide the best experience for your readers indirectly gives your on-page SEO a boost too as user experience is now taken very seriously by search engines.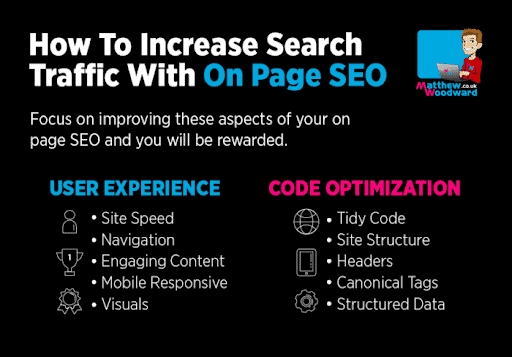 So combined these two parts give a clear indication of whether your page is relevant and valuable.
And the best part… all on-page SEO is completely within your control!
The On-Page SEO Checklist
All the points on this list either directly or indirectly affect you're on-page SEO.
Page Title In H1 Tags

Using H1 tags will make your page title stand out when Google's crawlers visit your page.

Keyword In URL

Including your keyword in your URL is a small indicator but still worth including in your SEO strategy.

Length Of URL

Having a shorter URL will help crawler bots save time when figuring out what your page is about.

Mobile Responsive

Your website needs to be mobile-friendly or it will be very difficult to rank within the SERPs.

Site Speed

A very important factor that you need to take seriously, making sure your page fully loads within 3 seconds.

Keyword In Meta Description

Adding your keyword to your meta description further clarifies the topic of your page and will help boost overall rankings.

Content Structure

Ensure you have a clear structure to your content that allows for fast navigation using clear headings.

Content Reading Level

Make sure you understand the level of your audience and then make sure your writing style fits accordingly.

Keyword At The Start Of Title Tag

Where possible, adding your keyword at the start of your title tag will help crawlers identify your keyword as soon as possible.

Keyword In The First 50-100 Words

Adding your keyword near the start of your content helps Google bots further clarify how relevant your page is.

Subheading H2 Tags

Using H2 tags in your subheadings helps Google crawlers learn more about your page and further define content.

LSI Keywords

You should use a mix of words and phrases that are similar to and relate to your main keyword.

Synonym Rich Content

By using a mixture of synonym keywords you can rank for extra keywords within the SERPs.

Length Of Content

Long-form content will usually outperform short-form content but see what works for your competitors and go with an average word count.

Keyword Order

Create a good mix of LSI, synonyms and your main keyword so you don't use the same phrase all the time.

Outbound Links

Include outbound links to quality resources which will add value to your content in the eyes of the search engines.

Inbound Links

Create inbound links to make your website a lot easier to crawl. This also provides lots of SEO value.

Working Links

Check that all your links work and do this regularly to avoid any damage that broken links can cause.

Optimized Image Alt Tag

Help crawlers understand what your images are by optimizing your alt tags.

HTTP Security

Ensure you have HTTPS to keep your site secure and build trust with Google.

Length Of Dwell Time

The longer you can keep people on your page the stronger the user experience signal this will send to Google.

Bounce Rate

Work on lowering your bounce rate percentage by keeping your visitors interested and ensuring you are attracting the right people.

Depth Of Content

Create in-depth content with lots of interesting information and relevant detail that solves your visitor's problem.

Use of Multimedia

Multimedia adds tons of value, makes a page more engaging and increases social shares.

Freshness Of Content

Keep your content fresh and up to date to keep your visitors coming back, attract new visitors and promote higher rankings.

Spelling & Grammar

To come across professionally and worth following, make sure you have a high level of spelling and grammar.
The Most Important On-Page SEO Factors
Not all of the factors listed above carry the same level of SEO value. So we are going to take a closer look at the 5 factors on this list that you should pay the closest attention to.
You need to ensure that your page is mobile responsive using Google's mobile-friendly testing tool.
Google knows that most people will use their mobile devices to browse the web almost daily, so having a page that formats properly on different devices is crucial.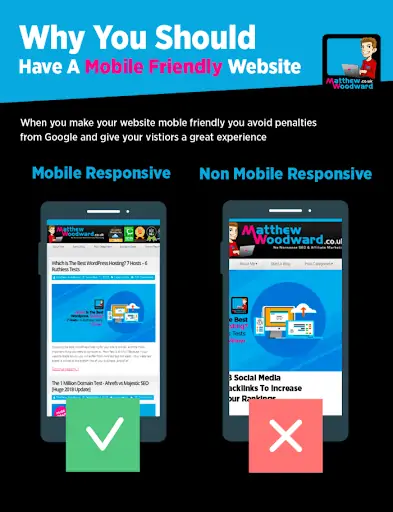 Not only should you do this to give your users a great experience but you risk getting a penalty from Google if your page doesn't pass their mobile-friendly test.
If your site takes more than 3 seconds to fully load, you've got some work to do.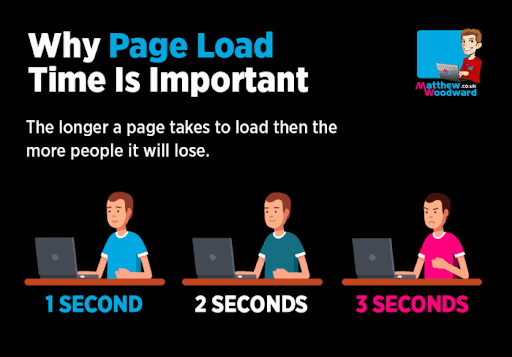 Site speed is now an official ranking factor and if your users are unhappy then so are the search engines.
You can test your speed with tools like GT Metrix and you can even see how much money you can make by improving your speed with Google's handy little tool.
It is all completely within your control.
Keyword At The Start Of Your Title Tag
This simple action of placing your keyword at the beginning of your title tag gives you a massive SEO boost.

The search engine crawlers will know within milliseconds what the main topic of your page is without having to do any digging around.
However…
Your titles still need to make sense. If it's a choice between writing for humans or writing for bots… you need to write for humans every time.
So this tactic is great if it can be used in the right way.
Internal links are a fantastic method to boost your on-page SEO.
You can use them to drive traffic to your high-conversion pages, show search engine bots your new content to get indexed quickly and they can help provide relevancy to a page.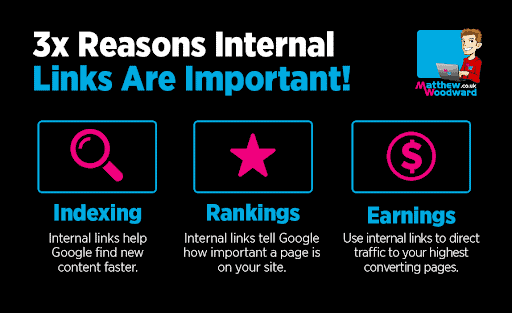 They are easy to get set up and can be automated to make the process even easier.
You need to pay attention to the length of content you are publishing. Normally long-form content outperforms short-form content…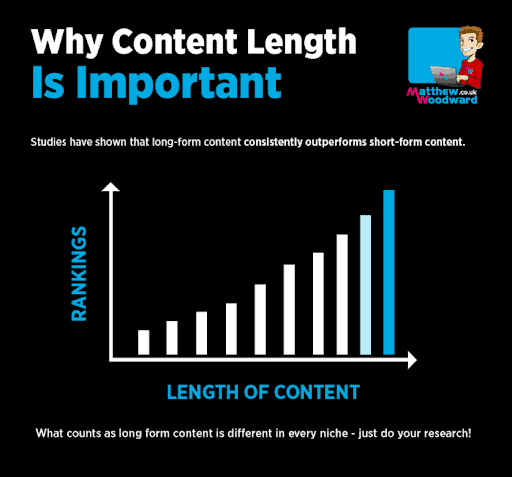 However, this will vary between niches.
Take a look at what the word count is of your competitors that are ranking in the top spots for your main keyword. Then go with an average word count as you know this will be the ideal length Google is looking for.
For example, if your top ten competitors have articles between 500-1,000 words you shouldn't be publishing a 5,000-word article. You want to aim for 750 words.
That's A Wrap
On-page SEO lays the groundwork for a successful webpage. You are putting everything within your control in place to show Google your page is relevant and valuable.
It is an important stage within an SEO strategy and shouldn't ever be overlooked. So always keep a checklist to hand when you are working on your website.