Since its launch back in 2010, Pinterest has been among the number-one platforms for gaining inspiration. Be it clothing, home decor, DIY projects, or handy materials for learning, this social media channel has also grown to become an amazing source for bringing eCommerce websites additional sales. And because expanding online presence, boosting the website's functionality, and even building progressive web apps are common among effective eCommerce stores. In this article, we'll introduce you to Pinterest and how it can help your online retail business as a strategy to gain more revenues.
Some Stats on Pinterest
In a nutshell, Pinterest content is created in the form of sharable pins. In addition to their main aim (giving people unique ideas and stirring up their interest), many of the products featured in pins are available for purchase. Meaning that apart from expanding the visibility of the brand, the products, and growing awareness, there's an opportunity to ultimately sell more. This is exactly what makes the platform so alluring to eCommerce businesses, both large and small. Among the other strong sides of the platform is that it's good at finding and targeting an audience. Because Pinterest is all about the personal preferences and interests of people, it is much simpler to reach out to the right people when compared to other popular social media platforms. Topping that, if women and/or millennials are your primary targets, give Pinterest a shot for sure. Take a look at the screenshot below. According to the eMarketer that shared findings made based on research, as of March 2019, social media users who are over 18 years of age used Pinterest for finding products and shopping for them in an astonishing 47% of the cases. This stat also shows that adults prefer Pinterest over other social media channels that include Facebook, Instagram, Twitter, and Snapchat for the aforementioned shopping purposes.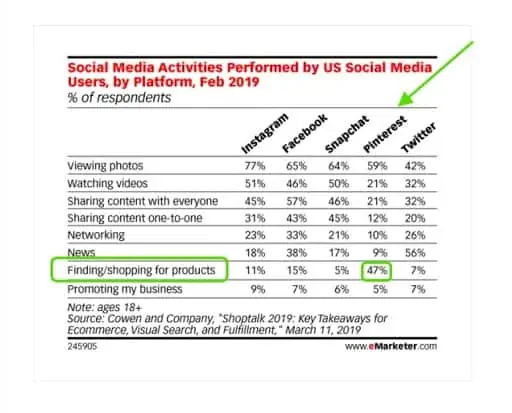 The screenshot was taken on eMarketer
Pinterest Accounts for eCommerce
To get started, you'll need a Pinterest Business account. When assembling your profile, make sure to indicate all the major details of the eCommerce store and your brand. These include not only your name and location. Ideally add a logo, a great feature image or video to head the page, as well as a short "about you" description and your store's website link. Next, you'll need to connect your account to the product catalogue of your online store. This is done via setups in the backend of your website. The procedure may slightly differ depending on the platform that your eCommerce website is based on. Once that's ready, you can continue by creating content on the account. As such, the products that'll be featured in the "Shop" and placed on "Boards" will need to be assembled as pins. Make sure to go the extra mile so that the content brings value. As such, the images should be of great quality, the texts and descriptions should be creative, and give enough information. For your pins to be compatible, all the product names and texts must be optimized and contain keywords. The latter is required to simplify the search for the pin or for appearing in the feed when queried for similar items. Apart from just standard photo pins, you are more than welcome to share blog posts and all kinds of visuals that include infographics and video content.
Shop Tabs
To give an example, let's take a look at what the official MAC Cosmetics Pinterest page looks like. As you can see, there's a separate tab that collects just the products that are on sale. The products that are visible in this section of the account look similar to the way they do on the eCommerce store's category page. The items feature a picture and mention their price, name, and brand.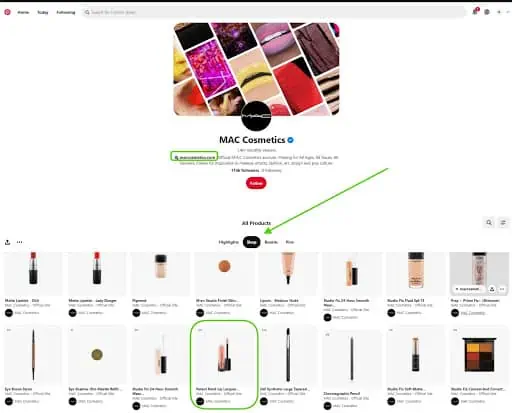 Shoppable Pins
Let's take a closer look at the pins. Did you know that, unlike Instagram and Facebook, Pinterest can boast huge longevity of the pins (when compared to the lifespan of posts on other social channels)? The scales are quite surprising. Just think about it, while a post is "within attention" for about half an hour on Twitter, a Pinterest pin can be in the spotlight for three months or more. This is possible as people can add the liked pins that they've stumbled upon to their collections and keep them there for personal use and sharing for a long time. Similarly, as you create many pins for your store's account on Pinterest, you can further group products for simplifying search and gathering interesting boards, say, for things that go well together. So, here's a standard pin from the official Victoria's Secret Pinterest page as an example. We can see a description with catchy wording (sometimes even specialized hashtags appear in this area). The images of a proper ratio (2:3) and the product occupy approximately 70% of the picture with not much white space. But the best thing about it is that apart from presenting the product in a clear and non-distracting manner, two links allow buying the dress on the official website. Importantly, the links lead straight to the specific product page on the eCommerce website, this implies much shorter checkout times and eliminates time wasted on a manual search for the item on the website altogether. Not to mention the beneficial impact this has on link-building.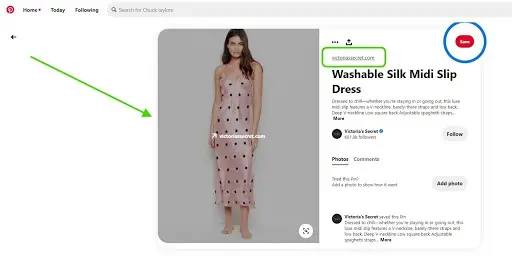 Shop the Look
There's more to that, of course. The previous two examples demonstrated how a product catalogue of an eCommerce website can be presented on Pinterest. But there's a better approach to that, the so-called "Shop the Look" feature. After all, the pin should be desirable to encourage your clients to make a purchase. As stated by Oberlo regarding the influence that Pinterest has on the purchasing decisions of users:
"8 out of 10 Pinterest users have bought products based on their brands' content on Pinterest".
Here's a pin that's accessible from the "Pins" tab on the official Pottery Barn Pinterest page. As you can see, the image displays a picture of a stylish bedroom. The items that are featured in the photo and that can be bought in the store are placed as Pinterest pins from the account's "Shop" section in the "Shop the look" area of the pin.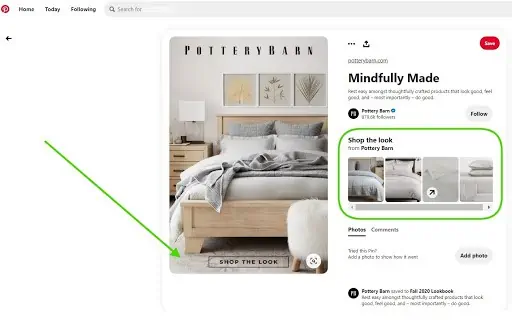 By the way, it is common that items or products that are related to home decor or fashion are highlighted by white dots precisely on the picture. In this case, though, the Pinterest feed provides analogous products or pitches you visually similar ones. Here's a Pinterest example of that: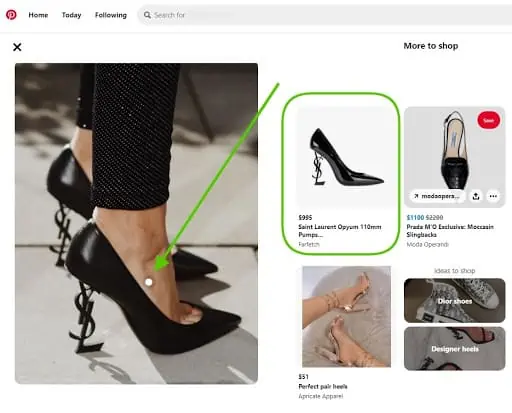 Pinterest Ads
Just as it generally works in digital marketing, there's usually an opportunity to promote products on a paid basis. Pinterest is no exception. Just as it's done on other social media, you place bids for a pin to make it to the feeds when searched. The budget and aim are marked by you right from the start. As a result, such pins appear much more often among your selected audience, can get clicked on more frequently, and will have a "Promoted" mark.
The Flip Side of the Medal
One more thing worth pointing out is that, ideally, you should interlink the products with your social media accounts. That said, make sure to implement the functionality that'll connect your store's products in the catalogue to their corresponding pins on Pinterest. This is a handy option that can serve as a replacement or alternative for wishlist functionality, especially if your potential buyer is a Pinterest enthusiast. To illustrate, this is how it's done on the official Converse website.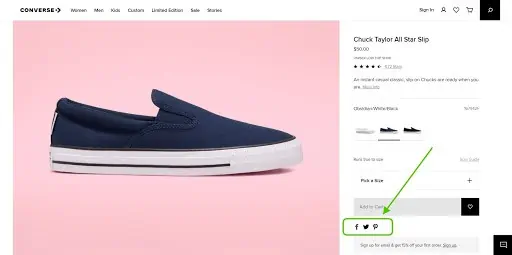 Final Word
Summing up, this social media platform is great for business use. Due to the quite large purpose intent of Pinterest users, this platform can be the social channel you should put a stake on. Perhaps the last bit of advice is being consistent, thus, as long as you keep your account alive and update it with new fresh content, you'll be on the right track!