In the last few years, video marketing has gone through the roof, with more and more marketers investing in video content to keep up with people's demands and love for this medium of storytelling. However, with more than 30,000 hours of new content being uploaded every hour on YouTube alone, video marketing continues to be one of the top business marketing trends of 2020. It means people want to watch more relevant, high-quality video content. Hence, being a small business owner, it is time for you to embrace the benefits of video marketing and consider it as an effective strategy to achieve your marketing and business goals. Let's jump right to the top five benefits of video marketing that will drive more small businesses to explore this content medium.
Increase your visibility and reach
Video marketing helps you make your brand and products more visible and accessible to the ideal buyer. As people are exponentially using the web and digital platforms to find information about different products and services before making a purchase, being a small business owner, you should establish your brand's online visibility and accessibility. The following are a few ways that video content increases your visibility and reachability.
Rank high in search engines
Google is the biggest global search engine, with more than 90% of the market share shared between Google and Google Images, as of September 2018. It means to maximize your visibility on the search engine you need to adopt all the best practices that boost your ranking. Adding videos to your website helps increase your search ranking on all major search engines, including Google.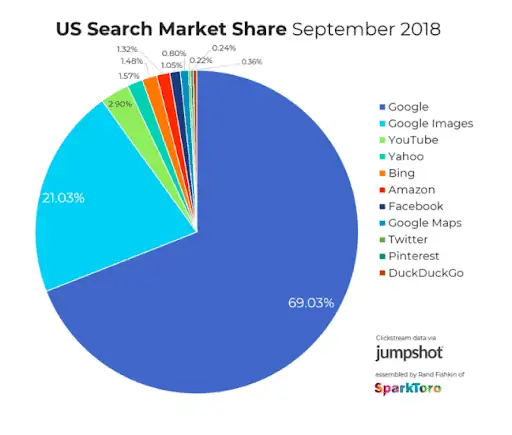 Source Including SEO-optimized videos on your website is said to be one of the easiest ways to get yourself on the first page of Google, organically. And it is worth so much effort because, according to HubSpot, 75% of people never go beyond the first-page search engine results. Besides, one of the best SEO practices for e-commerce websites to increase their Google ranking is to include high-quality videos and photos. This shows that Google likes you when people love you.
Get on YouTube
Video marketing helps you to effectively repurpose your content on multiple platforms at the same time. You can publish your videos on your YouTube channel and make your content to millions of people worldwide. Besides, YouTube has become the second-largest search engine in the world, with more than a billion monthly users who watch more than 250 million hours of video content every day. That said, Google owns YouTube, which is why it is fair to assume that the video platform would follow all best SEO practices to make its content visible.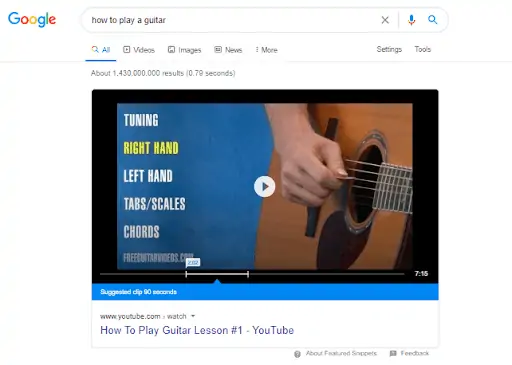 The following are a few tips to increase the visibility of your YouTube videos over Google snippets and relevant searches.
Research keywords relevant to your brand, product, and video content.
Make sure to include the keywords in your video title and description naturally.
Use the SRT file to include subtitles in your videos
Upload a custom thumbnail image
Boost email click-through rate
According to research, including videos in emails can increase your click rates by 300%. Besides, small businesses can also boost their email open rates by 19%, click-through rate by 65%, and decrease unsubscribes by 26%, by only including the word video in the subject line. The old, long text-based email formats do not motivate the readers to engage with your content. However, you highly improve the results of your email campaigns by integrating engaging video content. Email marketing is still a great way to engage with your prospects and maintain a lasting relationship with clients and leads. But, it is important to adapt your email content to changing information-consuming behaviour of people to optimize ROI Here are some recommendations to consider when running an email campaign with video content.
Use the word 'video' in the subject line
Don't embed the video as some email platforms may not support videos
Include the thumbnail or a custom image with the play button in the middle, which takes the receipt to your video hosting platforms like YouTube, Wista, and Vimeo
Increase understanding of your product
When you are running a small business, one of your priorities is to build audiences' familiarity with your brand, mainly if your product or service idea is new for the people. Products and services can be complicated, and you must explain your product, its benefits, uses, and value to motivate more people to make a purchase. According to a study, your website visitors are 85% more likely to purchase after watching a product video. It means that video marketing is not effective in engaging and entertaining your prospects, but it can have a solid impact on your conversion rate and profits as well. Explainer videos make an excellent way for you to share vital information about your product or services. From explaining features, benefits, and functions to tutorial videos, you want to produce video content that delivers value for your audience. Hence, when the goal is to increase understanding of your product and services our recommendation is explainer videos, it provides information to your audience in the medium of their choice.
Capitalize on your social media presence

You will have almost every brand from your industry posting images and text on social media, but a great way to make your social media game up a notch is to upgrade your content with videos. Besides, social media feeds are designed in a manner that shows people more of what they want to see, which means video posts are showing up on the top of people's newsfeeds. Hence, creating and sharing video content highly improves your chances of not only increasing your social media visibility but engagement and interaction with followers as well. That said, having interesting content on your social media that your audience can relate to also boosts your brand's overall popularity and loyalty, which again results in more social media engagement.
Reveal your brand's personality
In the age of awareness, people want to make more informed decisions. As a small business, you no more have the option to hide behind your products and services anymore. Video marketing empowers small businesses to not only reveal their brand's personality, but this enables them to create brand loyalty that drives them to compete with big corporations. In other words, people want to find out more about the brands that they buy and use. Everyone loves watching videos, which makes them the best medium to create content that helps to give your brand the human element. The video gives your brand a face for the audience, and they allow them to see, hear, and truly communicate with you. Video helps you build a real connection with people at a level that no other type of content can. Videos make your brand stand above other competitors in the market, and they give your brand an edge. Beyond increasing your conversation rate, videos build your goodwill, which will continue to drive your return on investment for a long time.
Tell a compelling story
There isn't any better way to keep your audience engaged and make them feel a connection with the brand than to tell a strong story with compelling visuals. When it comes to video marketing, you have as much creative space as you like. You can create various styles of videos for leads at different stages of the buyers' funnel, different digital and social media platforms, and numerous purposes. The following are a few of the most popular types of videos that marketers and small business owners often use.
2D animation videos – This style of video has been popular for the longest time. It offers exceptional versatility, from iconic Disney movies to amazing product videos that you often see on social media and websites.
Live-action videos – This style of video is mainly used by small business owners to record their customer testimonials and share them on different digital platforms. Client testimonials or product review videos are a great form of user-generated content that helps give more credibility to your brand and increase your social media influence. These videos also encourage prospects in the final stage of the sales funnel to make their decision.
Whiteboard videos – This is another style of video that can fall under the broad range of animated and explainer videos. Whiteboard videos are great to explain a new concept, and mostly they follow the problem-and-solution approach.
Demo videos – You can create animated demo videos or screencast videos for software. These videos help share useful and essential information with audiences through an engaging medium, and these videos often cater to the middle of the sales funnel leads.
At its core, the idea of video marketing is to tell a story in a visual manner that keeps your audiences engaged. The more you understand your audience and what kind of videos and stories they want to watch, the better results your video marketing efforts will yield.
Wrap up
These top five benefits of video marketing should help more small business owners see what amazing opportunities they are missing out on by not yet investing in video content. Video marketing can yield fantastic results, particularly when integrated with other marketing efforts like email campaigns, social media engagement, building a brand persona, and creating product awareness.