To drive more sales, increase traffic, and brand value, you have to focus on marketing your product effectively and attractively. You have to come up with amazing marketing techniques to gain the attention of customers and increase sales. With online marketing, the competition is even tougher as many businesses are marketing in the same niche.
Thus, to stand out from your competition, it's important to use the latest techniques and tools to gain the upper hand. In this article, we are going to discuss some of the most popular digital marketing plugins that are beneficial for your online store.
Best Digital Marketing Plugins
1. ThirstyAffiliates
This plugin is the ultimate marketing tool for bloggers as it helps to manage affiliate links and protects your commission as well. Some key features of this plugins are:
Provides detailed reports about important statistics.
Easily cloaks lengthy affiliate links.
Keep your affiliates links updated with the frontend Link Fixer.
Supports integration with Google Analytics.
Also supports Geolocation links by providing an alternate destination for country targeting.
Click here to download.
2. Click to Tweet
Click to Tweet allows you to promote, share, and track your content on Twitter. It is extremely easy to use and shows efficient results.
You can create tweetable links and share your content.
It also tracks your content to review the activity of each link.
Provides detailed analysis and demographic information.
Create a custom short link for each content.
Free of charge.
Click here to download.
3. Omnisend For WooCommerce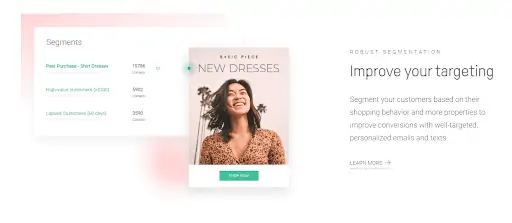 Ominsend is the perfect automation marketing plugin for your online stores as it helps you create and optimize your email and SMS marketing channels.
Offers personalized email marketing campaigns by segmentation of customers.
You can automate emails for various actions such as welcome, thank you, cart recovery, etc.
Create multiple channels, such as emails and SMS, to increase customer engagement and sales.
Capture customer information through contact forms.
Detailed reports are also provided.
Click here to download.
4. MailChimp
MailChimp is one of the best marketing plugins available. It enables you to collect customer information and use it for personalized marketing to increase sales and conversion rates.
Helps you collect customer information through pop-ups, sign-up forms, and uses that information for segmentation.
Uses customer data to create personalized content and emails.
Allows you to sync your store data and save images and content for easy access.
Creative Tools are available to help you build dynamic content.
Reports and recommendations are provided to improve the current campaign.
Click here to download.
5. ELEX Bulk Edit
The ELEX Bulk Edit plugin is a life-saver when you have to edit a large number of products on your WooCommerce store simultaneously. It saves you a ton of time and is very easy to use.
You can bulk edit product aspects such as quantity, sale and regular price, category, weight, title, and attributes.
You can also edit or add new attributes to the selected bulk products.
Filter and preview bulk products.
Can edit more than 10,000 products together.
Click here to download.
6. Advanced Product Labels
Another effective way to market your products is by adding product labels on each individually. You can either showcase discounts, attribute tags, and much more using Advanced Product Labels.
Create custom labels for products based on specific aspects or conditions.
You can customize the text, font size, font family, and background colours.
Create labels of the product title, stock, discount, price, best-selling, etc.
Create labels for bulk products.
Click here to download.
7. Klaviyo
Klaviyo is a completely automated marketing plugin that helps you build your brand, analyze the market, and helps you expand your audience through digital marketing. It is jam-packed with many features, let us discuss some of them below:
Offers One-Click integration.
Market your brand through Facebook advertisements and email marketing.
Customer segmentation and profiling.
Pre-built email templates are available to enable automation.
Drag and drop email editor.
Click here to download.
8. Sumo
Sumo is among the best email capturing plugin available and helps you gain subscribers. It is easy to set up and use and requires no coding experience.
The List builder option creates pop-ups for collecting emails and call-to-action buttons.
You can also create a scroll box for email collection and call-to-action buttons.
You can also add a share button to your content.
 Other features include the Welcome Mat and Smart Bar.
Click here to download.
9. OptinMonster

OptinMonster helps you increase conversion rates and traffic on your website. It helps in personalizing your digital marketing by behaviour automation and much more.
Drag and drop builder, customized messages, and design creator.
Mobile optimized plugin.
You can create a pop-up, scroll bar, floating bar, timer, forms, coupon wheels, and much more.
Uses smart triggers and customer behaviour to target conversions such as exit-intent technology, scroll trigger, and inactivity sensor.
Insights and analysis are available.
Click here to download.
10. TaskFreak
The TaskFreak plugin helps you to create and manage projects on your WordPress website easily.
Create public and private projects.
Assign projects to different user roles.
You can also create and assign multiple tasks.
Supports integration with WordPress.
Mobile-optimized plugin.
Click here to download.
11. LeadIn
LeadIn is a marketing plugin developed by HubSpot for small businesses and startups to use a cost-effective tool for automation marketing.
Tracking customer behaviour through customer patterns, website visitation, customer path before conversion, etc.
Enables you to send email notifications to multiple customers.
Integrates with multiple plugins such as Constant Contact, MailChimp, Campaign Monitor, etc.
Creates detailed customer profiles for targeted marketing.
Track form conversions.
Click here to download.
12. WPForms
This plugin enables you to create attractive forms and surveys with its drag and drop builder. You can create custom forms in minutes easily.
Pre-built form templates available.
You can apply conditional logic on forms.
Mobile-optimized plugin.
Customers can upload files in forms.
Payment gateway integration supported for PayPal, Stripe, and Authorize.Net.
Multiple add ons available such as signature, polls, abandonment, form locker, etc.
Click here to download.
13. Proofread Bot
The Proofread Bot plugin is the ultimate grammar checker for bloggers. It is easy to use and is compatible with multiple platforms.
Checks for grammar, style, plagiarism, and statistics.
Offers 1 free check per week.
Consists of 3 pricing plans: Basic ($15), Intermediate ($35), and Pro ($45).
Available for Google Docs, Facebook, WordPress, Chrome, etc.
Click here to download.
14. Thrive Headline Optimizer
The Thrive Headline Optimizer allows you to create attractive headlines that are sure to capture your customers' attention.
Create multiple headlines for your content and the plugin shows them to customers.
Based on statistical analysis, the best one is found out and made the headline.
A/B title and metric testing.
Bulk testing of headlines.
Provides detailed reports on time spent on the website, click-through rate, and scroll rate.
Click here to download.
15. Hustle

Hustle is the ultimate lead generation marketing plugin that increases conversion rates and site traffic easily.
Pre-built templates of pop-ups and slide-ins available.
All layouts are mobile responsive.
Send targeted emails with their behavioural and conditional setting.
You can set schedules to showcase pop-ups and slide-ins.
Offers social sharing on multiple platforms.
Integrates with top email marketing campaigns to increase the mailing list.
Click here to download.
16. Floating Social Media Icon
This plugin helps you add floating social media icons on your website to appear automatically or by using shortcodes to place them anywhere on the website.
20+ social media icon designs and themes available.
Easy configuration.
You can add and design multiple widgets on your websites such as icon design, size, and alignment.
You can also set up a position where social media icons will fly.
Drag and reorder icons easily.
Click here to download.
17. WP Optin Wheel
Another marketing technique to gain subscribers involves using coupons as a way to attract customers' attention. With this plugin, you can get them to sign up to win a coupon by spinning the wheel of fortune.
Add wheels from pre-built templates on your website.
You can also create multiple wheels.
You can add a different option in each wheel slice, such as a discount, deal, etc.
You can schedule the display of the pop-up.
Compatible in any language.
Click here to download.
18. Smart Coupons
With Smart Coupons, you can create different types of coupons, discounts, promotional offers, and much more. It is the perfect tool for increasing sales and reducing cart abandonment.
2 coupon pricings: Fixed amount or percentage.
Create bulk coupons and send them to all emails.
You can also create vouchers, gift cards, and offer store credit.
You can enable coupon restrictions such as selected product, category, or payment method.
Custom create coupons with personalized messages.
Click here to download.
19. WordPress to Buffer
With this plugin, you can auto-post your content on your Buffer account or social media platforms easily.
Offers dripping content on social media platforms like Facebook, Twitter, Instagram, etc.
Set schedules for updating or posting content.
Easily connects to social media platforms with a few clicks.
Click here to download.
20. Akismet
Akismet is the perfect plugin to protect your site from spam comments. It is extremely easy to install and set up.
Automizing the spam cleaning process.
Spam is caught every hour.
Deeply integrated with WordPress and its plugins and extensions.
Offers you "Name your Price" in a personal price plan.
Click here to download.
Conclusion
Marketing plugins if used wisely could increase sales, traffic, and conversion rates. The best WooCommerce marketing plugins enable you to advertise and promote your brand in the best way possible. You can also use other strategies like Omni-channel marketing which are very much in trend these days.
With the diverse collection available, you can use marketing tools to optimize SEO, share your content on social media, or create exciting promotional offers to increase sales and customer engagement.