Managing social media pages these days can be considered one of the most tedious tasks. It is not easy to handle various social media platforms all at once. It can be demanding on your part and can take much of your time and effort. Develop the best content material and strategies with your social media marketing efforts by leaning on social media apps to better reach your target. As the digital era continues to flourish and thrive, it has given many technological advances that can influence your sales and business growth. Social media is now one of the best avenues to create an impact on your target market. It can establish your connection with your audience and help convert your leads into sales. With over 3.6 billion users from many parts of the world, you can reach a massive audience with your social media tactics. To help you maximize your time on your social media marketing efforts, you can rely on different social media apps and tools. These are essentials to do your job as a marketer more effectively and efficiently.
Apps and Tools You Need For Your Social Media Efforts
As a marketer, you need essential apps to start your social media marketing journey. These are the platforms that you must install on your phone to monitor your social profiles better and the key to your success.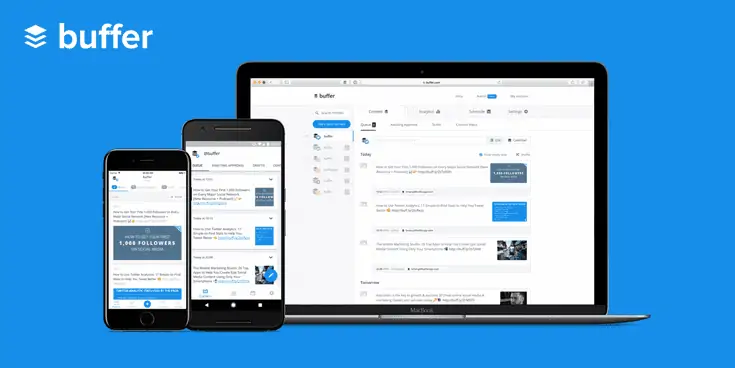 One of the most popular scheduling apps for social media, Buffer allows you to schedule your content on social media platforms like Facebook, Instagram, LinkedIn, Twitter, and Pinterest. The app also provides follow-up statistics on how each post performed—knowing which of your posts fairs best will help you with your content plans and allow you to adjust your social media marketing strategies.
If you want to focus more on Instagram for your social media marketing efforts, it can come in handy with Planoly. It acts as a visual planner for Instagram as it allows you to see how your posts can come together before you create another content material post. It makes your feed seamless and aesthetically pleasing for your followers.
Planoly also provides analytics and engagement rates for your posts. This app can help your Instagram profile resonate with your brand more through thematic posting and branding. This app lets you elevate the visual experience of your followers.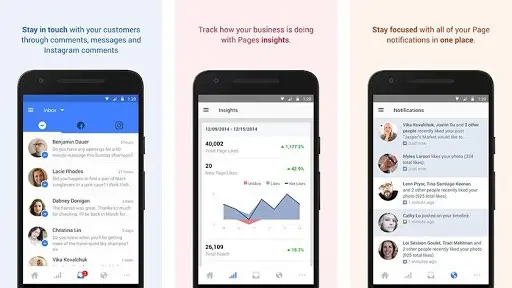 Handling multiple Facebook pages can be a hideous task, especially if you are working using your mobile phone. Facebook Pages Manager App allows you to manage even up to 50 business pages from your mobile devices. That is convenient as you can monitor several pages at once without sacrificing too much of your time. This particular app can keep you on top and track any Facebook page that you manage. It can streamline your activities and help you address several things at once.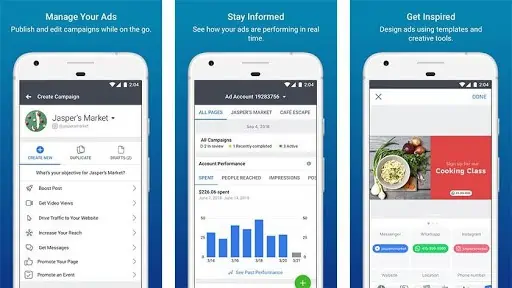 Another app that should not be ignored, primarily if you are focusing and allotting your social media marketing budget through Facebook and Instagram Ads. This app will assist you as you run advertising campaigns on any of your mobile devices. You can stay on top of your campaigns with this app, edit any schedules, and adjust your budgets. Using Facebook Ads Manager will allow you to easily create a Facebook ad and receive notifications wherever you are.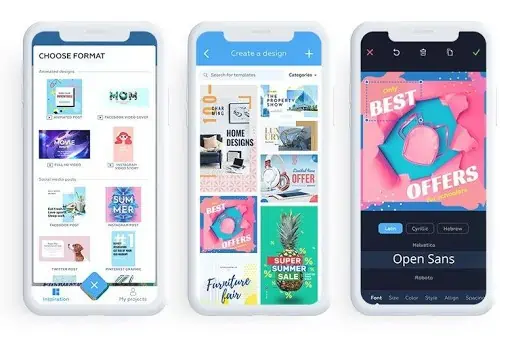 Crello can make your account visually pleasing with beautiful images and animations. This social media app can give you many choices that you can use to come up with striking posts that can spark your audience's interest. Even if you have no design experience, you can create pleasing imagery with Crello. It has 10,000 ready-to-edit templates that you can use for your needs.
Launched initially as Latergramme, Later gives you the flexibility to schedule and publish content materials on Instagram. Unlike Facebook, Instagram does not offer the ability to post content at a later time.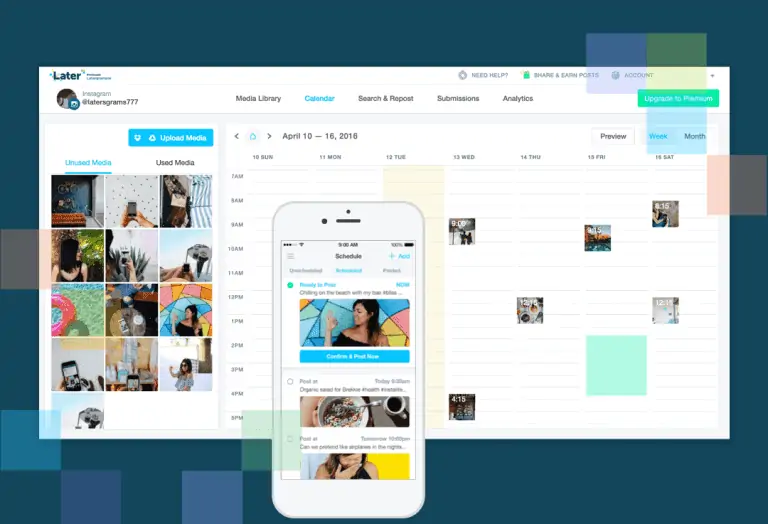 Later can help you with this problem by allowing you to publish your post on a later schedule. That is convenient as you schedule your posts to give you more time and enable you to focus on your other marketing efforts. Later can also manage multiple Instagram accounts in one place, making it more efficient.
Like Crello, Canva can become your best ally to create stunning and professional images for your social media. Popular to many marketers, Canva has released a new app specifically made for your mobile devices. It brings all its power-packed features from the web right onto your phone or tablet.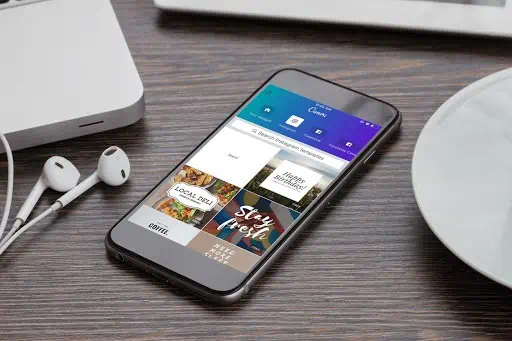 Canva boasts of its pre-built templates that you can use for any of your social media platforms. It is relatively easy to use Canva as you can easily drag elements into place as you create your material. What makes this tool a top choice for marketers is that you can easily share your work directly on your social media accounts with just a few taps on your mobile device.
Hootsuite is one of the most well-known when it comes to social media management. It allows you to create, schedule, and publish your content materials to all social media platforms. With Hootsuite Composer, you can view your content material in one dashboard, making it easier for you to plot your marketing plan. Composer not only helps to draft your caption or attach an image to your posts, but it enables you to edit, and resize your photos based on your needs and even adds logos.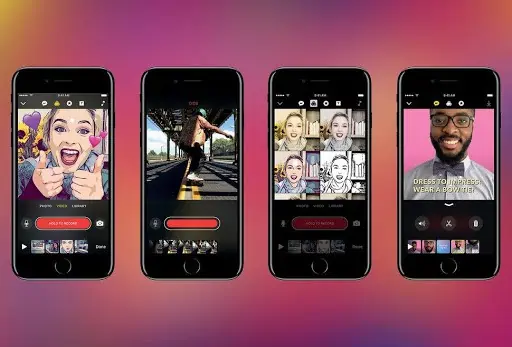 An application made for IOS; Apple Clips has an exciting feature that allows you to create animated captions while talking in any recordings. Short video clips can generate many views on Facebook, and up to 85% of videos are played without sound by some users. Having a caption on the video itself is a valuable tool to help your audience understand it better and help with your engagement rates.
To be successful in your social media marketing drive, you need to make sure you have an idea of what people are talking about you. Mention allows you to know what the internet is saying about your brand. It can monitor your brand's mention in all possible platforms like social media, blog posts, news sites, and more.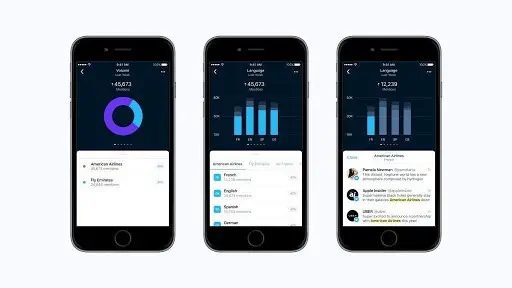 This application will give you the latest reports on who talks about you and what is being said about your brand. Mention makes you link your social media account for a more seamless interpretation. It can customize statistics that matter to your business.
Final Thoughts
Social media will remain one of the best avenues to grow your brand. However, to do it successfully and efficiently, you need to have social media apps and tools to aid you with your marketing efforts. It can make your life more manageable as a marketer and give you more time to focus on things that are essential for the development of your brand.