Website maintenance is highly significant no matter what might be the size of your site. It ensures your website functions as intended and continues to provide a user-friendly experience. Besides, regular WordPress maintenance also actively guides you toward enhancing your website's speed, performance, and security. However, it can become very challenging to choose the best WordPress maintenance plugins for your site as currently, there are more than 57,000 WordPress plugins available including thousands of third-party plugins. This makes the process of finding the right plugins for their website extremely overwhelming for website owners. Choosing the wrong plugin which doesn't offer the right features or one which is not updated as frequently can harm your website. Small business owners are frequently on the lookout for the best WordPress plugin for backups, enhancing website speed, SEO, and so on. Having the correct set of WordPress maintenance plugins and tools will assist you in growing your online business. This is why companies are increasingly hiring professional WordPress maintenance services to take over this responsibility off their shoulders. This empowers them to avail themselves of the benefits of having WordPress experts manage, maintain, and monitor their websites. That said, if you want to go with a DIY approach for your WordPress site, we have shared five must-have WordPress maintenance plugins for your business website. If you are creating a new WordPress business website or a blog, these plugins will help you get on the right track.
Five WordPress plugins you should have
#1: Sucuri

When you are running a website, ensuring the security of your data and user's information is undoubtedly among your top priorities. If you too think along similar lines then Sucuri is one of the best WordPress security and firewall plugins you can get for excellent protection of your website. Since WordPress is the largest and most popular content management system around the world, it is more prone to hacking and security breaches. According to a report, in 2018, Sucuri received 90% of its cleanup requests from WordPress. Hence, you must take the necessary steps to protect and secure your website, and installing security plugins like Sucuri is the perfect way to get the ball rolling. This plugin helps you maintain your website by monitoring and protecting it from DDoS, XSS attacks, malware threats, brute force attacks, and generally all other types of cyber-attacks and security risks. Along with security and DNS-level firewalls, Sucuri also gives you a great performance boost and helps speed up your site. If you don't yet have a firewall on your WordPress website, then make sure you get one today. This will help you avoid severe damage to your business that a security breach can cause to you and your users.
#2: UpdraftPlus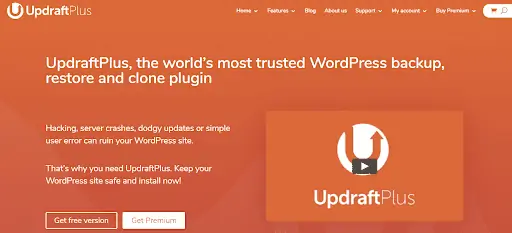 UpdraftPlus is one of the most popularly used WordPress backup plugins, widely used within the WordPress community. Things like hacking, dodgy updates, server crashes, and even simple user errors can create big problems for your WordPress website. This is why you need WordPress backup and data restore plugins like UpdraftPlus to keep your site and data safe. This plugin enables you to create automatic backups of your website files and database and safely store them on a remote destination such as Dropbox, Google Drive, S3, email, and more. Besides, it also allows users to restore their website from a backup easily. UpdraftPlus offers its basic version for free, but you can also upgrade to the premium, paid version to avail yourself of its additional features and prioritized support. If you are looking for other options, BackupBuddy and VaultPress/ Jetpack Backups are also great alternatives for UpdraftPlus.
#3: WP Rocket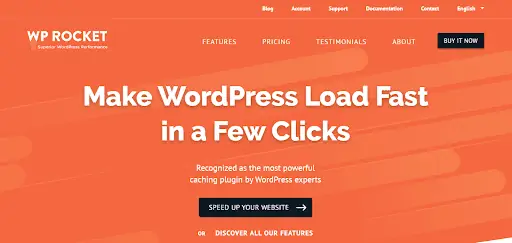 WP Rocket happens to be one of the most trustworthy WordPress caching plugins available on the market. It enables you to effectively improve the speed and performance of your WordPress website without needing a lot of technical skills. The plugin automatically turns on the recommended caching settings of WordPress, like page cache, gzip compression, and cache pre-loading. If you want, you can also signup for additional features such as CND support, loading images, DNS pre-fetching, magnification, and other tools to improve your website loading time. An essential feature of WP Rocket is that it doesn't wait for someone to put in a request for saving the cache of any webpage. It automatically crawls and generates your website cache, which leads to an instant boost in website performance. It also offers you a free image optimization service, Imagify, which can help you speed up your website even more. WP Rocket is the easiest and one of the most user-friendly caching plugins for beginners. You can also use WP Super Cache as an alternative to WP Rocket, and it is free but less powerful than WP Rocket in some areas.
#4: MonsterInsights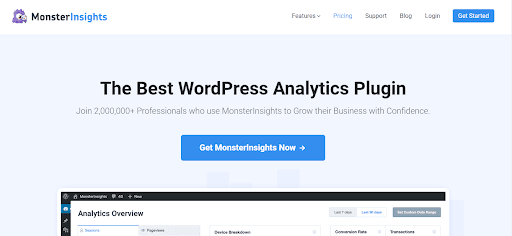 Monster Insights is one of the best Google Analytics plugins for your WordPress website. If you are looking for prospects to grow your business and boost your online presence, then this is a must-have plugin. It enables you to connect your website more with Google Analytics and keep track of your visitors. This plugin helps you to get all-important stats like how people are finding and using your site. These analytics and insights will also be very beneficial for your business marketing strategy and other related efforts. You can effectively use this information to optimize your website accordingly to boost your online traffic, revenue, and subscribers. That said, MonsterInsights is available in free and premium versions, but you can only truly unlock the true power of this platform later. MonsterInsights is used by over 2 million professionals around the world, and it can also be the plugin your site needs. It offers you features like universal tracking, real-time stats, a Google Analytics dashboard, enhanced e-commerce tracking, page-level analytics, affiliate link and ads tracking, and enable Google Optimize. It takes care of your needs to monitor your website performance and will allow you to make more result-oriented decisions.
#5: Yoast SEO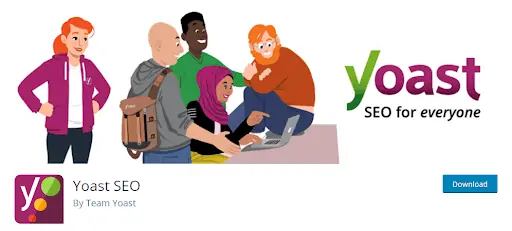 The extended version of WordPress maintenance also includes making your site SEO-friendly so people can easily find the information they are looking for. Best SEO practices help you get more people on to your website from search engines. Even though WordPress is originally SEO-friendly, there is still a lot that you can do for the upkeep of your site. Businesses are also increasingly looking for different ways to rank their website and content on Google. Yoast SEO is a widely known WordPress plugin that offers some of the most comprehensive solutions in this regard. This WordPress SEO plugin provides a wide range of features and tools that help you improve your on-page SEO. Although not a maintenance plugin in the conventional sense, Yoast SEO can help you maintain the SEO-based aspect of your website in a much more efficient and effective manner. It helps you include meta tags on your site, generates sitemaps, optimizes your site for social media, connects your site to Google Search Console, and more. Yoast SEO also offers a robust redirect feature that makes it very easy for users to navigate 301 redirects. It also identifies the change of URLs and generates auto-redirects, so that you don't have broken links on your site. All these features not only facilitate your audience when interacting with the website, but they also ensure your site functions at its best at all times. If you are looking for another option to make your website SEO-friendly, then you can also use the All in One SEO Pack plugin for your WordPress website as an alternative to Yoast SEO.
Wrapping it up
For you to create the best opportunities for yourself and your business, you need to ensure that your website works smoothly and offers a great user experience. For that, you need to take care of WordPress website maintenance continuously. It is also crucial to keep your WordPress plugin count to a minimum as your website maintenance will become more complex as the number of plugins increases. These five WordPress maintenance Plugins are a perfect way to start. These plugins cater to the diverse needs of your website. Ranging from data security to creating backups and from creating cache to making the site SEO-friendly, these plugins will help you to ensure that your site always successfully functions across various critical functional areas.