When it comes to marketing, more or less, every business has the same ingredients. Creating a successful marketing strategy depends on how you concoct these ingredients together. There is no single universal strategy that fits all businesses. In this guide, we will discuss a couple of successful marketing strategies for small businesses. You must create a combination of these methods and craft a strategy that works for you. We will help you understand how you can gauge what will work for you in the next section.
How to begin?
The first step to creating a successful marketing strategy begins by understanding your current market position, your strengths and weaknesses, and what kind of relationship you have with your audience. Ask yourself these questions, as their answers will bring clarity to what you should go for.
Understand your audience's demographics.
Find out which social media they use the most
Research on their internet usage patterns
Understand how they search for the product of your niche
Listen to what they expect
Understand their means of communication and their form of expression
Research your competitor's marketing strategies
The answer to these questions will make it clear how you should approach your audience. You will know what influences their decisions. It empowers you to create an experience for your audience that leads to satisfactory conversions. Let's look at the strategies that will bring success to your business.
1. Google My Business
Google My Business is one of the most potent ways to bring quality leads to your business. If a customer searches for a service online, Google shows them these kinds of local business results.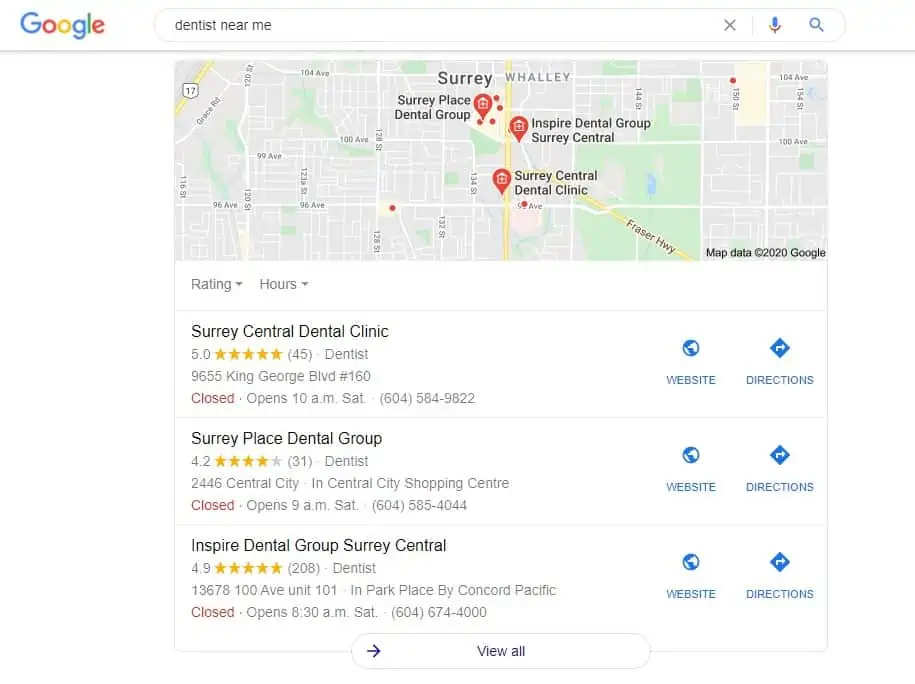 These have options like the location on Google maps, a direct 'Click to Call' button, Open/Close status, etc. According to HubSpot's marketing statistics, 60% of smartphone users have contacted a business directly using the search results, such as the "click to call" option. If you can rank your business in the top three, you boost your visibility and credibility without spending anything on ads. This is displayed even before organic search results, which means more chances for a better click-through. It combines all your Google data in a place like Google+ profile, Google Maps profile, your Google reviews, access to data on Google Analytics and Google Insights, and more. It's relatively easy to rank your business here by optimizing your profile and bringing in a few good reviews and citations.
2. Google AdWords
Google owns the world's largest advertising display network. Moreover, Google owns 71% of the search market share (Source). This alone says why you should consider Google AdWords as part of your marketing strategy. Being a paid marketing channel gives you immediate results and flexibility to run your campaign in tandem with other marketing strategies to maximize output.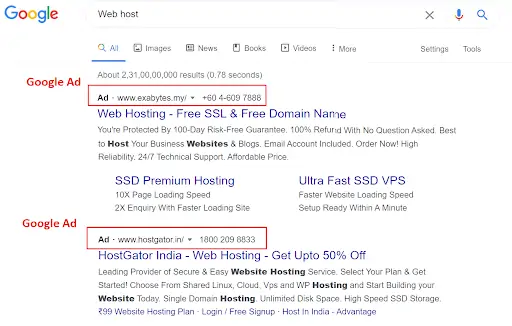 In the above example, search results for 'web host' show two ads before organic search results. If you choose to display ads with Google, your Google display campaigns are potentially reaching 80% of global internet users. It is a highly competitive and expensive space, but it holds the potential to change the tide in your favour effortlessly. It allows you limitless scalability depending on your budget. Google AdWords gives a score to your display ad based on CTR (Click Through Rate), relevance and the landing page to your ad send traffic. A higher score means a lower bid cost.
3. Content Marketing
Nearly 40% of marketers say content marketing is an essential part of their overall marketing strategy (HubSpot, 2020). Gaining more traction with time, content marketing is an effective way of reaching out to your customers, bringing them in as leads, and converting them into repeat customers. It is about sharing relevant and consistent content that adds value to your audience and influences favourable action.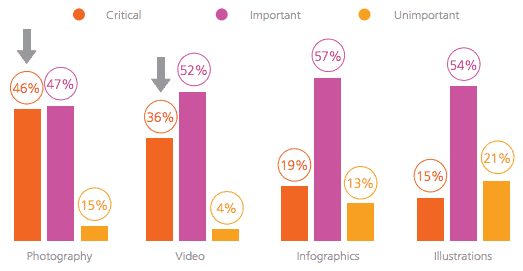 Earlier, marketers avoided content marketing strategies, as it doesn't manifest immediate results. However, it is evident that content marketing brings long-term benefits and can be used compellingly. It can almost single-handedly bring business to you. Thus, you can consider having a blog to put your content on, and active social media handles for distribution. However, it takes persistence to carefully weave through every corner. From quality content to its consistency, SEO Optimization, higher readability scores, and excellent promotion, you need to take care of everything meticulously. This can be one of the most rewarding strategies in the long run. You might never have to fall back on other meagre ways. According to Demand Metric, content marketing costs 62% less than traditional marketing and generates about three times as many leads.
4. Email Marketing
Is that most of the people who visit your site don't make an immediate buying decision. This makes Email marketing a crucial pillar of digital marketing. You can always ask people to drop in their emails by offering them a 'Lead Magnet,' something which adds value to them. Once they exchange their email with you for some downloadable content, freebie, eBooks, etc. you can add them to your mailing list and categorize them depending upon their level in the consumer/sales cycle.
5. Facebook Advertising
As of Q1 2020, there are 2.6 billion monthly active Facebook users. Over 80 million small businesses use Facebook's free business tools to reach out to these users (HubSpot, 2020). The tools Facebook provide a chance to reach almost any kind of audience effectively and inexpensively.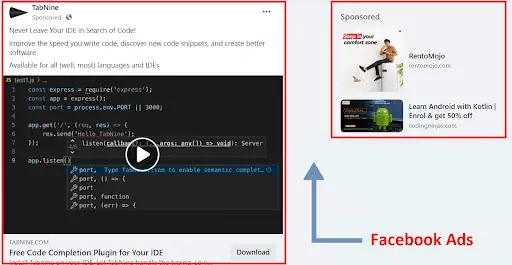 Facebook ads let you micro-target your audience based on location, interests, age, sex, online behaviour, and many other advanced factors. The best thing about Facebook ads manager is that it lets you run multiple ad sets and arrive at the best possible combination without any technical expertise. Facebook also is a host to many 3rd party plugins that help you with running campaigns. Initially, it might take some time to understand the platform and its tools. But once you get the hang of it, you will have the charge of a robust and powerful display ad targeting system in the world.
Final Thoughts
The sky is the limit when it comes to strategies for your marketing plan. However, here we have tried to introduce you to a few of the most powerful and robust systems that can help you hone a successful business. There are even more things you can experiment with, including multiple social media platforms, but to start, these are some great ideas to get going!