Zero to Hero: 0 Organic Traffic to >250 Bottom-of-Funnel Clicks in Under 2 Months. [Case Study]
Here's an example of one of our clients who came to us with a website that was generating ZERO organic traffic:
The result of our 2-month burst of referring domains:

When working with a new website, there are some important steps to take to prime it for an SEO campaign:
Keyword Research
On-Page Optimizations
Creating Content & Link-Building
How We Did It: (3 Phases)
Phase 1: Find high-intent keywords & keyword gaps
Finding keywords can be pretty straightforward, but other times it can require a huge amount of creativity depending on the industry. We know from experience that it's very important to dig DEEP into an industry and understand the customer before we start investing in a keyword. We've created our process for how we find the optimal buyer keywords for a page.
There are Four major challenges we need to consider when selecting keywords for a business:
Query Intent
Localization
Traffic & Customer Persona Match
Competition
For our client, we had to map out these ideas with a keyword gap analysis. A KGA takes a business's biggest and most relevant competitors and compares the keywords they have indexed on Google, versus the ones our client has. If a competitor doesn't have way more backlinks than you, and they're ranking for a keyword, then you should be able to rank for it as well.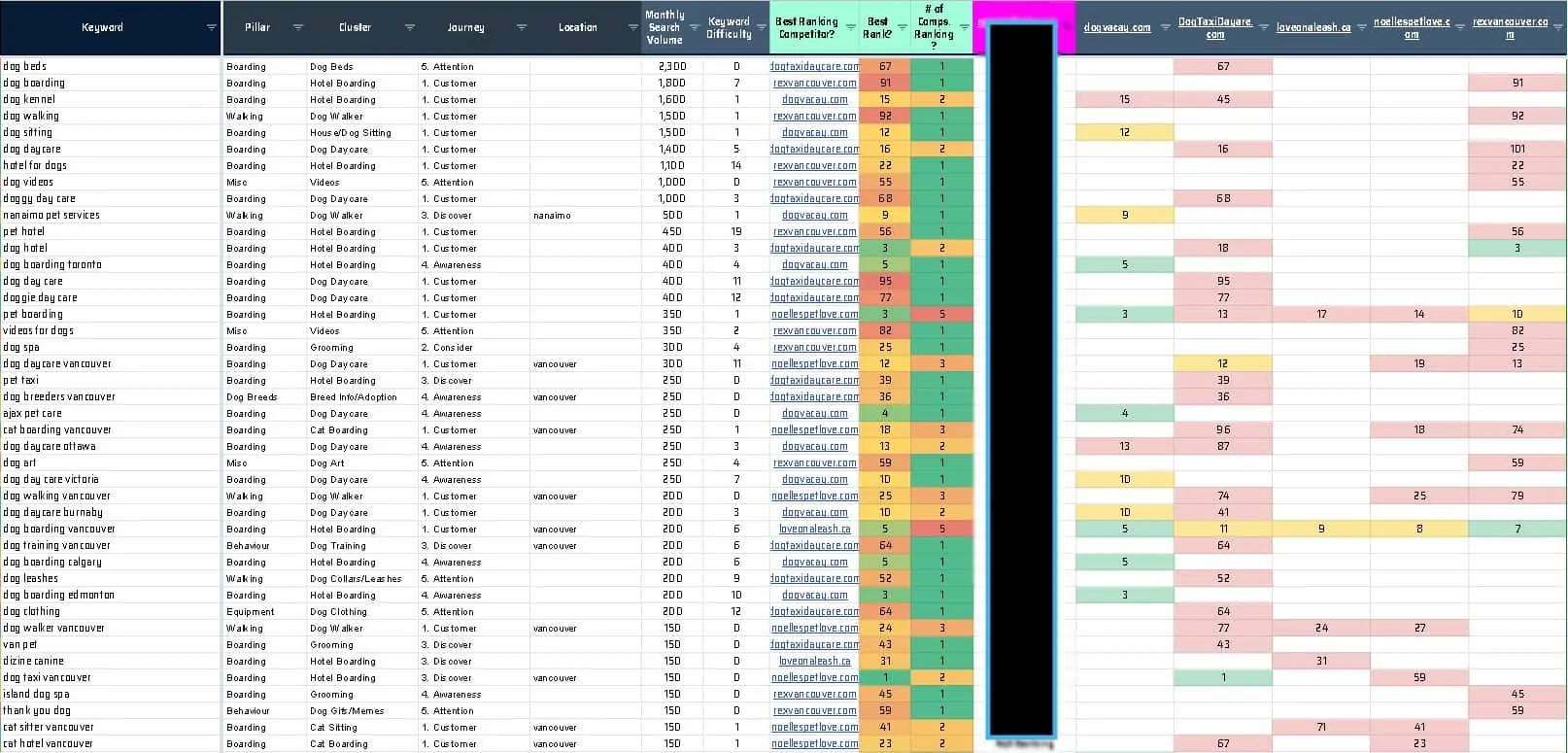 The idea for this aggregation of data was to assign intent and location to each keyword to help decide on what content we could create, and group other similar keywords we should include in the piece.
With this strategy, we were able to increase their organic keywords by over 100 with each piece of content.
Phase 2: On-page optimizations
Due to our client's website missing many important localized and keyword-targeted pages, we had the opportunity to create new pages from scratch. This was a great chance for us to set a foundation for their entire website's SEO and UX structure.
We focused our efforts on a few key areas:
Mobile Compatibility
Google is now crawling websites on mobile-first, ensuring your website is up to standards for mobile use, before they decide to rank your website. It is more important than ever to have fast, and responsive pages.
We corrected their mobile errors by removing incompatible sections and content and replacing them with responsive replacements. This cleared all of their reported mobile issues inside of their Google Search Console reports.
Page Titles
With the above-mentioned keyword research, we also went through every important service page and investigated what keyword was the most relevant match to the page.
As we created new location-targeted pages, we targeted all of the location-based keywords on those pages.
Location Main Keyword – Secondary Keywords – Brand
For example:
Vancouver Dog Grooming | Pet Cleaning & Washing Services | DogGroomers™
Maps Embed
By associating the website with the verified Google My Business location, we were able to increase the legitimacy and authority of the client's pages.
Reviews
We hard-coded a review section on our client's website for 2 reasons:
Increase Authority
Allow Review of Schema Markup
By adding a review schema markup, we were able to skyrocket CTR for their SERPs.
Store/Business Images:
Images are important in stimulating the environment the potential client can expect.
An image with a meta tag can rank within the Google Images section of Google.
Store Info:
It's vitally important to have all of the proper information on every location page.
We made sure every page was 100% accurate and delivers every detail the potential customer could want.
External Links
Linking online properties helps Google recognize a relationship with those listings.
Some online properties we added external links were:
Google My Business Listing
Maps and Directions to Location
Social Media Profiles
Other Important Citations
Unique Content:
Every location page needed 250-400 words of location-specific and unique text to optimize its ranking potential.
We added unique content to each location page to ensure Google will index those pages as "non-duplicate" content.
Structured Data (Schema Markup):
To pull star reviews into the SERPs for our client's location pages, each page must have its ratings natively in its coding. We coded a section of each page to pull Google My Business reviews into the pages, resulting in the reviews appearing a couple of weeks later in Google search results.

Phase 3: Creating Content & Link-Building:
As mentioned above, our keyword research started to create a clear path in creating new content to share with blogs and other authority websites, as well as rank for valuable keywords. Here were the steps we took:
Created a linch-pin blog post focused on the highest search volume keyword with the lowest keyword difficulty.
Gathered a "Share List" of websites and influencers who have recently shared similar content.
Gathered and Graded an extensive list of Guest Post opportunities. (Example Below)
Sent out high-converting personalized messages to the share list to promote the article to interested parties, and opportunities, offering guest post content that would fit their audience and link back to the target page.
Wrapping Up
To recap, we took care of 4 core aspects of our client's SEO efforts that would yield the greatest results in the shortest amount of time.
Find high-intent keywords & keyword gaps
Optimize website pages for buyer-intent keywords.
Created valuable content
Ran a promotion campaign to generate social shares and links.
We built over 48 links from high-metric referring domains which resulted in lightning-quick results for their new website in just under 2 months. 

With so many prospects looking for your services online, you can't afford to ignore the enormous amount of clientele an excellent SEO campaign could bring your business.
Interested in talking with me?
To secure a time to chat