by Emily Clark | Mar. 10, 2020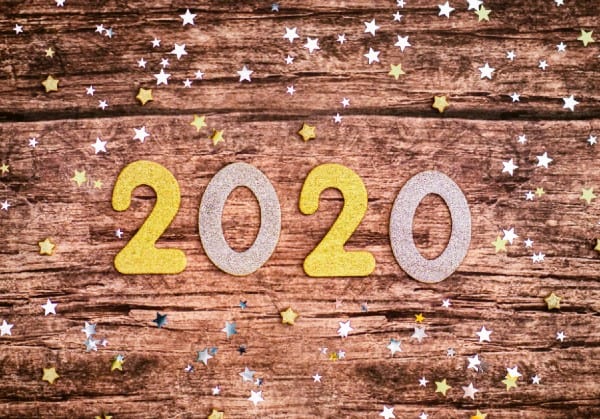 With billions of online users throughout the world, it's no surprise that an estimated 5.8 billion Google searches are made each day. The growing number of consumers who use online search engines presents a valuable marketing opportunity for businesses of all sizes and industries. It's no wonder so many companies are investing in SEO to boost their SERPs and reach a wider audience!
But it can be difficult to come up with an effective SEO strategy—that's why we're here! At Vancouver SEO Agency, our team of experienced experts is ready to help with all your company's digital marketing needs, be it SEO strategy, content creation, video, or
web design
. We're firm believers in building relationships with our clients based on trust and transparency and are committed to achieving the best results for them.
How can you be sure that we're the right agency for your company? Well, how about taking a look at what our happy clients have to say? We're excited to partner with Clutch, a B2B ratings and reviews platform on which we recently received our first review.
Our client, Klein's Entertainment, LLC, gave us five stars for our services. We helped them create a website and design a new logo, mission statement, and company avatar, and also lent them a hand in PPC and SEO for their marketing campaigns. We impressed our client with the stellar results that we helped them achieve: in just four or five months, they saw an
increase in their rankings
on Google and became the top result for several
keywords
. Around six to eight months later, our client is still seeing improvement in their rankings, enabling their company to grow in size and revenue.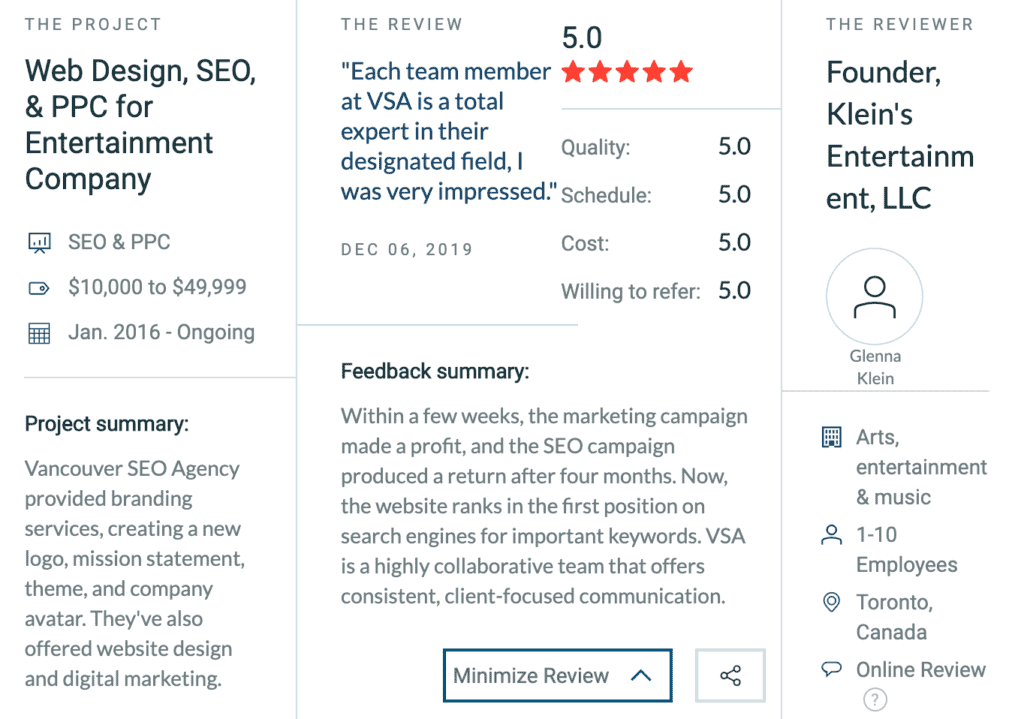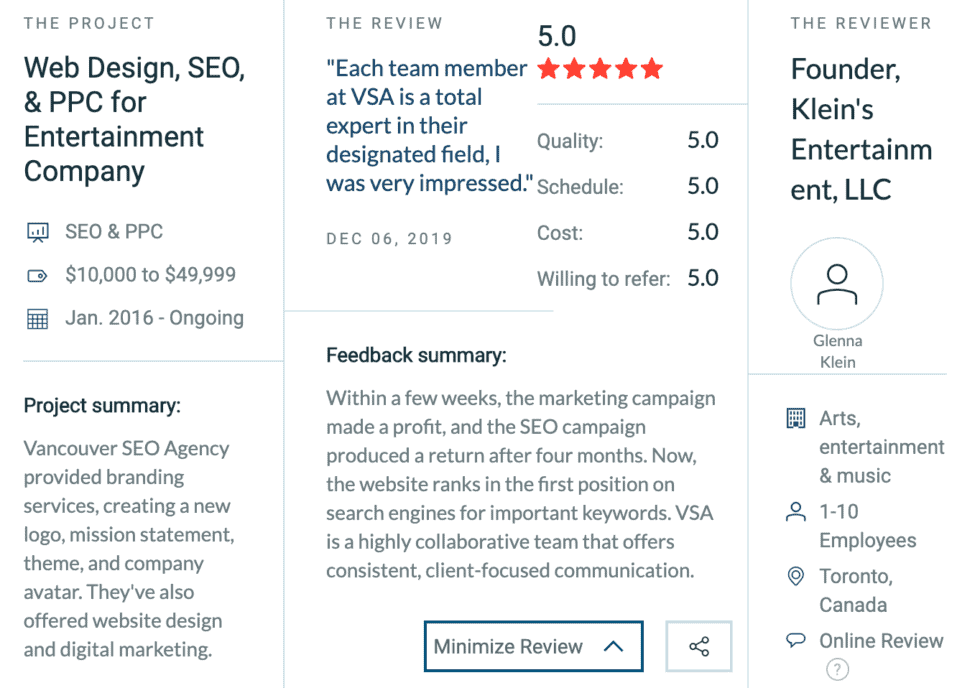 "What I found most impressive about VSA is the fact that they made our startup process so much easier than we expected. It goes to show that if you have the right team, things just click. Each team member at VSA is a total expert in their designated field. ~Glenna Klein, Founder, Klein's Entertainment, LLC
We love to help our clients realize their business goals and are thrilled to receive their feedback on our hard work. With so many SEO agencies out there, we're grateful to everyone who has chosen to work with Vancouver SEO Agency and are proud to play a part in their achievements.
You can also find us on Clutch's sister site, The Manifest, a business news and how-to guide that shows off leading companies through ranked lists in various industries. We're excited to be featured on The Manifest's list of top SEO companies in Canada!
We understand the importance of leveraging online platforms to maximize your company's visibility, and our team is dedicated to helping our clients achieve the great digital marketing results that they deserve. Interested in working with us? Contact us for more information!